Writing
Date Posted: 3rd March 2017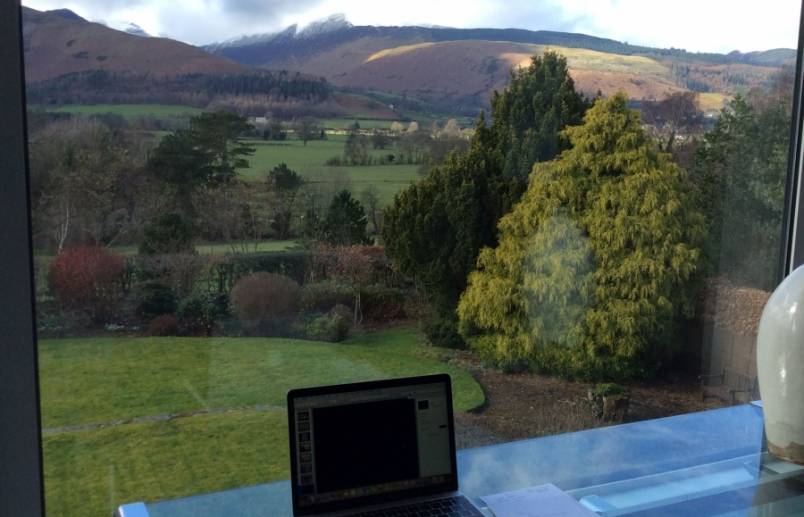 It's hard to find a place  to write and work without a distracting view here in the Lake District. The view up the north end of Skiddaw from my Pink Egg was glorious but our new panorama is even more spectacular (see above and you'll see what I mean.) I have had to relocate to a small back room facing a tall, dark green, boring leylandii hedge for any serious writing as the changing light is a fairly continuous distraction.
I don't know the collective noun for writers (a volume?) but there will be lots of them around Keswick for the next ten days at the annual festival of words and ideas which begins this afternoon (Friday 3rd) I am looking forward to chairing Richard Cohen a writer, lecturer and publisher talking about his new book How to write like Tolstoy which is full of insight into the minds, styles and idiosyncrasies of some celebrated writers.
On Thursday next week, I am up against Tolstoy again with a talk followed by the film of Anna Karenina in the Main House while I lead a discussion on ART – A LIFE SAVER in the studio at 5.45.
My three proponents of the subject are Dolly Daniel who fell in love at first sight with a Percy Kelly drawing of Whitehaven on line and persuaded a colleague to drive her almost  a 1000 mile round trip from the South Coast in a smart car to buy it. She now lives up here.
Then Art Addict John Flook, an accountant who discovered Castlegate House a few  years ago, made a purchase followed by more and more and he began to visit galleries and exhibitions near his home in the north east spreading to London, Edinburgh and everywhere.  He has now joined a life drawing class and is creating his own art. Art has opened up many possibilities and he's exploring them all with enthusiasm. 
Artist Maddi Nicholson is joint founder and director of Art Gene which is based in Barrow in Furness where she organises community art projects – life changing for her and also for many of the people of Barrow. I first met her in 1996 when I launched a fleet of lorries painted with eye catching art slogans to  travel the motorways of Britain and Europe and raise the profile of our year of the visual arts in the north. She will tell you about this as well as a colourful 'walk the plank' boat, an inflatable house and Allotment Soup as well as The People's Museum. Art Gene just won a Cumbria Life cultural award which it justly deserves.
Of course art has changed my life drastically since the day I found Castlegate House and became an Accidental Gallerist.  It gave me 25 years of excitement and adventure which still continues.
There are so many good things on offer in this jam-packed programme that I won't get to even looking at the view at all for the next ten days.
You can see the programme on www.wordsbythewater.org.uk
May see you there.