FOOTPATHS AND FLOOD GATES
Date Posted: 15th August 2018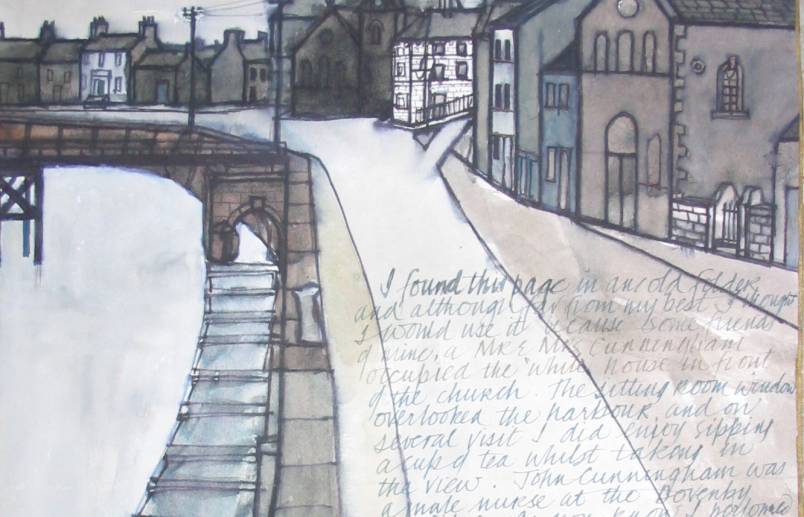 Excitement is mounting re the Maryport Artfest, when Percy met Norman, 28th 29th September.  I know lots of people have already booked for talks and trails. I'm looking forward to meeting many of you there. The organisers (The Maryporters) have put a lot of thought and work into it and it promises to be an interesting 2 days.  There are lectures and painting groups and a pop up bookshop. I will be there most of the time so there will be time to chat and catch up.
The Kelly trail boxes have gone all over the world.  I frequently get useful feedback and observations – keep them coming.  All 6 trails are checked every year but recent feedback tells me that the paths up to and down from Mote Hill (1) at the beginning of the Maryport trail are rather neglected. The path from Furnace lane up to Mote Hill is overgrown and littered. The steps down to the harbour (2) which were newly done when I planned the trails are now uneven and need care. I have notified Allerdale Council and hope they will take action quickly. The view from just below Mote Hill on the way down is where Kelly painted the panoramic view of the harbour that is on the front of the trail box. So it would be a shame to miss it. I have informed Allerdale council about this as they are responsible for footpaths and hope this will be sorted out soon. In the meantime please take care. 
Please note that since the 2015 floods, a flood gate has been installed on the harbourside path as it enters Well Lane(3). This closes in heavy rain and high spring tides so it is best to check before you set off. I hope it isn't closed when I do the conducted trail on 28th September.
The 6 trails are all on recognized footpaths or on town streets. The Allonby and Workington trails are the easiest and are all on the flat. The other 4 are more challenging with some steep climbs and steps. Percy liked nothing better than a panoramic view from a high point. So it is worth the climb. (sturdy shoes/boots)
I still have some Kelly paintings for sale from the Kelly estate and my own personal collection. Look on the web site in the GALLERY section in the FOR SALE box. A price list is available on request.