SHEILA FELL'S CUMBERLAND
Date Posted: 22nd April 2021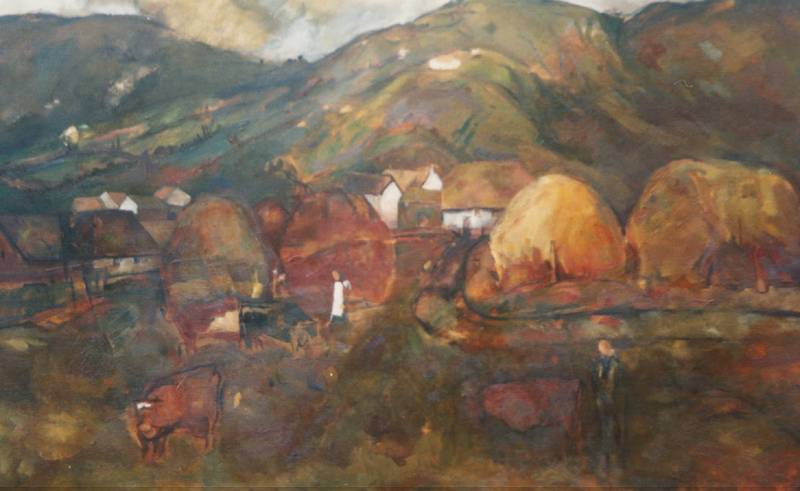 SMALL PLEASURES ...
Hello everybody. Hope you're all well, vaccinated and enjoying this glorious sunshine. We ventured into the wild yesterday  -  I never imagined B&Q in Penrith could be so exciting  - I even put earrings in and a bit of lippy!  How the world has changed – and our perception of it.
The latest video is now available on YouTube. Click on  https://youtu.be/q0cEHXCFNZI   It's titled SHEILA FELL'S CUMBERLAND and  it is the story of a painting by Sheila Fell RA. Having made videos about Cumbrian born Bill Peascod from Maryport and Percy Kelly from Workington and Karen Wallbank from South Cumbria,  it is time to look at Sheila Fell who was born in Aspatria in 1931 and died tragically in London in 1979 aged 48.
I've included a short film made in 1963 for the BBC arts programme Monitor (precursor of the South Bank Show) . The producer was a promising trainee from Wigton -  23 year old Melvyn Bragg -  who had recently graduated from Oxford.   In the film you see Sheila painting Cumberland and other works in her London studio.  (gives me goose bumps every time I watch it.)
Cumberland  was the biggest painting Fell ever produced by all accounts and it was the first Fell painting I acquired.(not bad as a starter dont you think?)  It was part of the portfolio of work she presented for admission to the Royal Academy at L S Lowry's suggestion.  I tell its story in the video and attempt to unravel the mystery of the cows (in particular the leg of one of them!).   L S Lowry, Sheila's benefactor and friend,  was well known for 'contributing' to other artists' work. Was my painting  a victim of this urge or was it his friend the Reverend Mr Geoffrey  S Bennett or was it both of them?  I'd love to have it X-rayed and a DNA test! That might reveal the truth.
It has been lovely to see a few of you in the garden over the last 2 weeks collecting your reserved  PK paintings. Hope to see more of you in May when it isn't weather dependent and  we are allowed to see people inside.