THE ARTY SHOW
Date Posted: 24th February 2020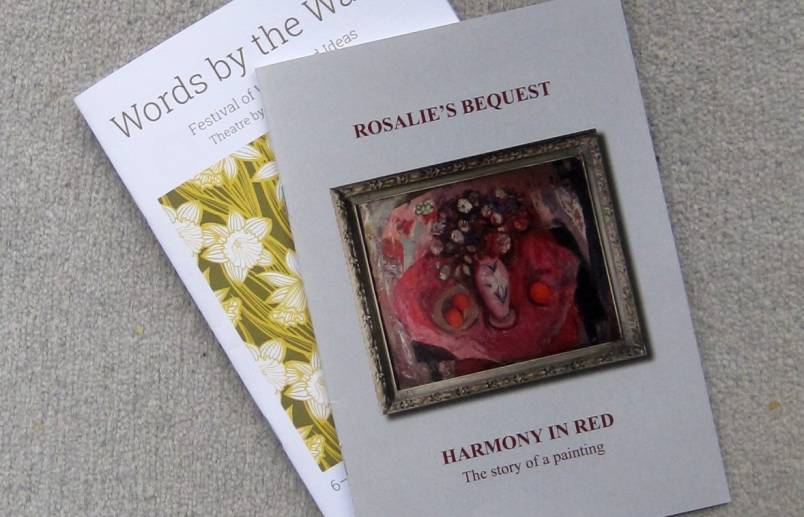 Michelin tyres ran an advertising campaign more than thirty years ago with the strap line WHAT IS HAPPENING IN THE WETTEST PLACE IN BRITAIN? It focussed on Seatoller at the head of the Borrowdale Valley and Michelin gave away heavy duty tyres to everyone in the valley.  I'm glad to say that although we have endured the biggest rainfall over the shortest period of time ever in the last few weeks our flood defences appear to be holding… so far.
On Monday 9th March at 6pm at Theatre by the Lake in Keswick, I'm looking forward to telling the story of a beautiful painting by Scottish painter Anne Redpath - which hung in a barn in Borrowdale for 42 years.  Its owner Rosalie Charlton died aged 97 in 2000 and it has lain in the store room of Keswick Museum for the past 20 years surviving three floods.  I have put together and printed a 16 page illustrated booklet ROSALIE'S BEQUEST telling this fascinating story.  Proceeds from its sale will go to the Museum. It will be up on this web site by 1st March and of course at the talk..
I have been invited to talk about this and about the Literary Festival on THE ARTY SHOW on BBC Radio Cumbria on Monday March 2nd. This magazine/informal chat show about the Arts in Cumbria is produced by Helen Millican 7.00 – 9.00pm every Monday. I believe you can tune in on SOUNDS wherever you are
I was just managing to reduce the heap of books I'm chairing at Words by the Water when I received disappointing news.  Art critic and writer Martin Gayford is ill and can't make it to Keswick and I have so enjoyed his book about art and travel, a subject close to my heart.  As The Man in the Blue Scarf who sat for Lucien Freud and a friend of David Hockney, I was looking forward to catching up with him again. I wish him well as he must be disappointed too.
However Cumbrian writer, Christine Raafat has filled the gap Martin Gayford has left with her new book, The Will to Succeed – a novel about Lady Anne Clifford based on years of assiduous research. This, her first book, tells a fascinating story of a 'modern' woman born in Elizabethan times and fighting for women's rights throughout her long life – mainly for her rightful inheritance which was being denied to her purely because she was a woman. Those were turbulent times.  It's a page turner. That's on 12.30 Tuesday 10th March in the studio.
Of course to totally distract me I see the long awaited third book of Hilary Mantel 's trilogy– The Mirror and the Light- will be released on 5th March.  Whether I will be able to resist turning the pages before I have dealt with all the other commitments remains to be seen.  At least it will distract me from the weather and the state of the nation.
Tickets for Words by the Water on www.theatrebythelake.com or 01768774411